Filter by Category
College Prep
All-Pro Tutoring: 4-Hour ACT Boot Camp
with All Pro Tutoring

Dec 8, 2020 at 6 pm
Get a jump start on your ACT test preparation! The ACT Test is held in equal esteem as the SAT test by most colleges and universities. This comprehensive review course introduces students to the ACT test and includes: test-taking strategies, testing information, study materials and a free simulated ACT test. For the simulated test schedule and registration information visit: www.allprotutoring.com
Students are welcome to bring a snack to class!
Remaining 2020 ACT Test Dates: September 12, October 24 & December 12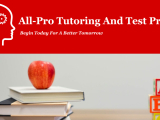 Online Registration Unavailable
Private Tutoring
Price not
available
with All Pro Tutoring
Private tutoring is available for K-12 students for both individual and group settings. Subjects include Regents Preparation, SAT/ACT Preparation, and more! For a full list of subjects and availability, please call All-Pro Tutoring.
To get started, call (716) 400-2767 or (716) 310-3319 or email us at allprotutoring@gmail.com